MSU Student Grateful to Work with Detroit Lions and Henry Ford Health Physicians
October 16, 2023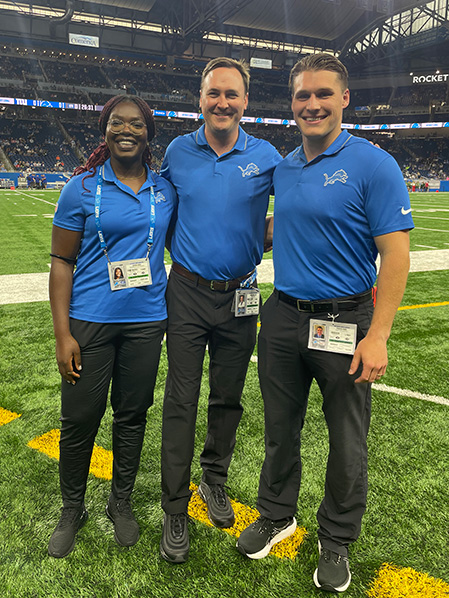 In August, Tamarandobra "Dobra" Ogeh had the opportunity to observe "elite level care" with the Detroit Lions and Henry Ford Health Sports Medicine physicians.
"It was an elite level of care in how people treated one another," said Ogeh. "And in the kind of commitment to the team and how people showed up every day trying to be the best for themselves."
A fourth-year medical student at Michigan State University College of Human Medicine, Ogeh was chosen to participate in this one-month clinical rotation as part of the NFL Diversity in Sports Medicine Pipeline Initiative.
"The entire sum of my experience is gratitude," said Ogeh. "This experience is something I'm going to take with me for the rest of my life, and I'm hopefully going to be able to pay it forward."
During the clinical rotation, Ogeh's schedule was split between working at the Detroit Lions Training Center in Allen Park and at the Henry Ford Health clinics with the team's sports medicine physicians. She shadowed closely with the physicians, working with them on sports medicine cases from exams and diagnoses to treatment and recovery.
"As much as this was an amazing experience for Ogeh, I think that I took just as much from her time with us," said T. Sean Lynch, M.D., a Henry Ford Health orthopedic surgeon and the Detroit Lions head team physician. "She seamlessly integrated herself within the Lions medical and training staffs and became a confidant for the players."
Ogeh's experience is an excellent example of how Henry Ford Health + Michigan State University Health Sciences is expanding educational opportunities with a focus on diversity.
When Ogeh was not on the football field sidelines, she was observing the Henry Ford Health Sports Medicine physicians applying the same elite medicine principles in the operating room on a 25-year-old national football linebacker to a 14-year-old with bad hips.
"I got to see people using their experience for diverse care," said Ogeh. "But also individualizing it to a diverse population, especially in a place like Detroit."
Ogeh described this dedication as a team that expanded far beyond the 53 people on the roster. A team that included trainers, nutritionists, sports conditioning, and rehabilitation and many other experts highly committed to the organization and to the players, which ultimately inspired Ogeh.
"There are several people that are involved in making the patient's care the best that it can be," explained Ogeh on one of many aspects she really liked about this clinical rotation. "I had the chance to talk to a lot of people who are experts in their respective fields. I got to talk to them, pick their brain, and learn things that I can apply to my own future practice."
Her first job in healthcare field was a scribe for a sports medicine physician. Ogeh now hopes to pursue a career in orthopedic surgery, getting to care for athletes and many others.
"Ogeh has a bright future ahead of her and I couldn't be prouder to have a small influence in the great things that she will do in the future!" said Lynch.
The NFL Diversity in Sports Medicine Pipeline Initiative aims to increase and diversify the pipeline of students interested in pursuing careers in sports medicine to help make a positive impact in the medical field and work to diversify NFL club medical staff.
"For a lot of people that look like me, there are just not as many opportunities as there are for people who look differently," said Ogeh. "I think that offering opportunities such as the NFL Diversity in Sports Medicine Pipeline Initiative allows one to see what is possible."
After the initial announcement of Ogeh's participation in the program, other students began to reach out to Ogeh, sharing their surprise on learning about this clinical rotation opportunity and asking how to do something similar at their schools.
"I don't know what my career is going to look like in 10 years, but thanks to this program, my ceiling has increased," said Ogeh, who never considered a career as an orthopedic surgeon until medical school because she never saw someone who looked like her in this healthcare specialty. "It's important for other people, especially the ones I'm caring for, to see these career options for themselves."
When Ogeh started medical school, she was discouraged by some from pursuing a career in orthopedic surgery. It was not until she met one of her mentors, a resident at the time at Henry Ford Health and now an attending, who encouraged Ogeh to pursue orthopedic surgery by simply being a woman in the health care field.
"It's because of people along the way who said, 'I don't know who told you that you can't, but you can. I'm doing it and you really can too'," explained Ogeh.
Henry Ford + MSU is committed to training diverse future physicians, nurses, and other healthcare providers. It is the partnership's goal to provide more opportunities such as the one Ogeh experienced and to establish innovative approaches to end health disparities.
"I had no idea I would get all these other skills just for my growth as an individual and as a future physician," said Ogeh. "Especially reinforcing the drive to show up as my best self every day and provide that elite level care."