Renowned educator provides insights into building a diverse provider workforce
February 27, 2023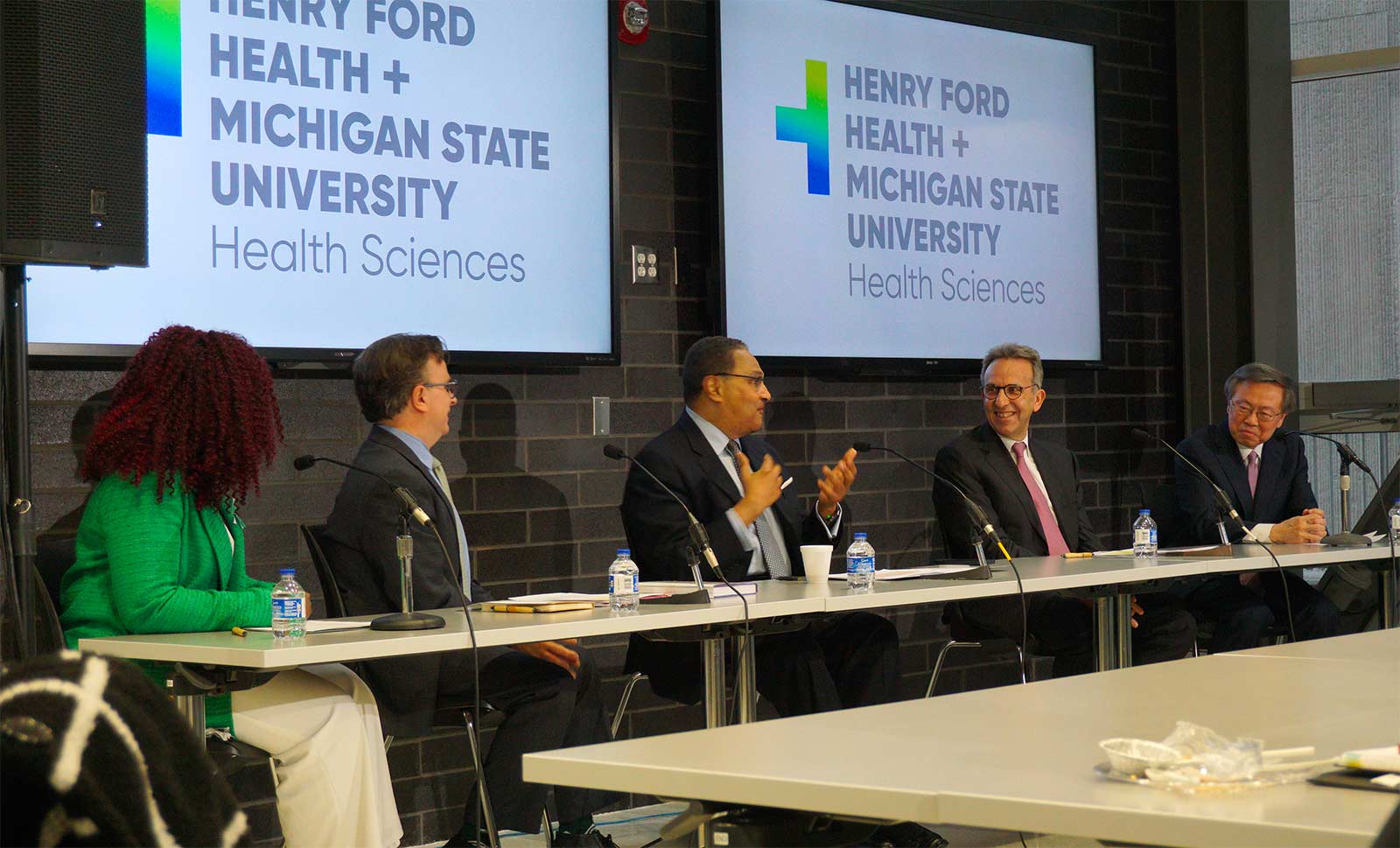 Henry Ford Health + Michigan State University Health Sciences held the inaugural Diversity, Equity, Inclusion and Justice (DEIJ) Speaker Series featuring guest speaker, Freeman Hrabowski, Ph.D.
"Very early on we determined...that we were not merely going to talk about diversity, equity, inclusion, and justice but we needed to lead in the capacity building so that we could actually do the work. Dr. Hrabowski embodies the best and promising practices for the work we're seeking to do," said Marita Gilbert, Ph.D. during the opening remarks of the event. Gilbert serves as the Henry Ford + MSU DEIJ Committee chair and is the MSU College of Osteopathic Medicine associate dean of Diversity and Campus Inclusion.
President Emeritus of the University of Maryland, Baltimore County (UMBC) from 1992-2022, Hrabowski is a renowned DEI leader in higher education. His research and publications focus on science and math education, with special emphasis on minority participation and performance.
"The work I've been focused on for the past 40 years has really been about seeing how we can prove ourselves as a nation that we can see students from underrepresented groups excelling in math and science," shared Hrabowski during the discussion.
In partnership with the MSU College of Osteopathic Medicine, the event included a special panel discussion with Hrabowski, Norman J. Beauchamp Jr., M.D., M.H.S., Henry Ford + MSU Board chair and MSU Health Sciences executive vice president, and Adnan Munkarah, M.D., Henry Ford + MSU Board vice chair and Henry Ford Health executive vice president and chief clinical officer.
"Our ability to improve health equities is really to be able to educate more minority students so that they are engaged in the healthcare industry, because the ability for people to connect with their communities and to make a difference is very important," shared Munkarah during the speaker series event.
Throughout the discussion, Hrabowski emphasized the importance of considering who goes to college, how they do in college, and how we create awareness of the opportunities when building diversity and inclusion in the healthcare industry. Investments in strengthening the undergraduate STEM experience and mentorship programs were also key takeaways from his session with Henry Ford + MSU leaders.
"When we look at the limited number of people of color in medicine, it very much is why, or it's one of the big drivers, of why we have this persistent gap in addressing the health needs of communities," said Beauchamp during the panel discussion with Hrabowski. "We need to have more doctors and nurses that look like the community they serve."
Hrabowski's suggestions for improvement in DEI in the healthcare industry not only included improving and introducing STEM education as early as preK-12 but also building a community such as mentorships and support during undergraduate and conducting "rigorous evaluations." As Hrabowski shared, according to the National Academies only a third of students who started in STEM in the United States graduate with a bachelor's in STEM.
"Our study showed that the majority of people who start off with an interest in becoming a doctor a nurse or whatever, leave it." said Hrabowski. "People say, well they leave it because maybe they can make more money in business. No, they leave it because they get C's or below in chemistry."
While there has been a lot of work to increase diversity, more is still needed, along with taking a look in the mirror, according to Hrabowski. Those in higher education need to continue the work to reach success.
The Henry Ford + MSU DEIJ Committee plans to host more speaker series in 2023. The speaker series event with the guest speaker Hrabowski, is now available to watch at the Henry Ford + MSU YouTube channel.