Henry Ford + MSU Researchers Work Together to Address the Primary Brain Tumor in Adults
August 25, 2023
Glioblastoma (GBM) is the most common and aggressive primary brain tumor in adults, with an average survival rate of only 8 months after initial diagnosis.
A team of researchers with Henry Ford Health + Michigan State University Health Sciences is pursuing new options to treat glioblastoma (GBM), the most common and aggressive primary brain tumor in adults. Their research, funded through a $100,000 grant from the Henry Ford + MSU 2022 Cancer Seed Funding Program, uses magnetic nanoparticles to target specific RNA molecules to stop the growth of the cancer cells —and lead to their death.
Henry Ford Health Neurosurgery Research Lab Associate Scientist Ana deCarvalho, Ph.D. and MSU Precision Health Program Director and College of Human Medicine Assistant Dean Anna Moore, Ph.D. are leading the research.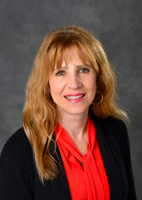 "I am extremely excited about this partnership between Henry Ford Health and MSU," said Moore, who is an internationally recognized expert in nucleic acid-based image-guided therapy of cancer. "It is a privilege to work with highly experienced and knowledgeable scientists equally enthusiastic about our projects."
"We are thrilled to collaborate with Dr. Moore on this project and thankful for the funding by Henry Ford + MSU," said deCarvalho. "This partnership highlights the strength of the combined expertise and resources between our institutions to address significant clinical challenges such as developing better treatments for high grade brain tumors."
GBM expresses oncogenic (a gene that can transform a cell into a tumor cell), small nucleic acid molecules called microRNAs (miRNAs). One of these miRNAs, miR-10b, contributes to the spread and survival of GBM in healthy brain tissue.
"Commonly, GBMs are resected surgically to the maximal extension feasible, followed by radiation therapy (RT) and treatment with DNA-alkylating agents such as temozolomide (TMZ), the only FDA-approved modality that constitutes first-line therapy for the treatment of GBM," explained deCarvalho, who developed the Hermelin Brain Tumor Center Live Biobank and leads a nationally recognized preclinical translational brain tumor program.
In this new collaboration, deCarvalho and Moore are conducting research that hinders the GBM miRNA using an anti-miR10b RNA molecule carried to GBM tumors by magnetic nanoparticles (MN).
"In addition to serving as a vehicle for anti-miR10b molecule, MN also serves as an imaging reporter allowing to visualize the accumulation of the novel drug in the tumors using magnetic resonance imaging (MRI)," explained Moore. "Upon delivery to tumor cells, anti-miR10b RNA binds to oncogenic miR10b leading to cell death."
Part of this research is possible due to Moore's group pioneering the development of non-coding RNA delivery and describing the application of nanoparticles for combined imaging and non-coding RNA-mediated therapy.
"In the long-term, this research will provide better understanding of the mechanisms governing cancer progression and application of the nanodrugs to treatment of other forms of brain cancers where miRNAs play a major role," said deCarvalho.
deCarvalho and Moore are currently working to establish animal tumor models, which will include the use of patient-derived xenografts (PDX). They will then investigate accumulation of the novel drug in brain tumor followed by therapeutic studies.
"No matter the results of this study, we will continue to work together to find better treatments for GBM and other cancers so that current and future patients have a fighting chance," said deCarvalho.
Henry Ford + MSU announced the pilot grant recipients of the 2023 Cancer Seed Funding Program and will announce later in 2023 this year's integration grants.