Henry Ford + MSU Health Equity Film Series Featuring "Power to Heal"
October 11, 2023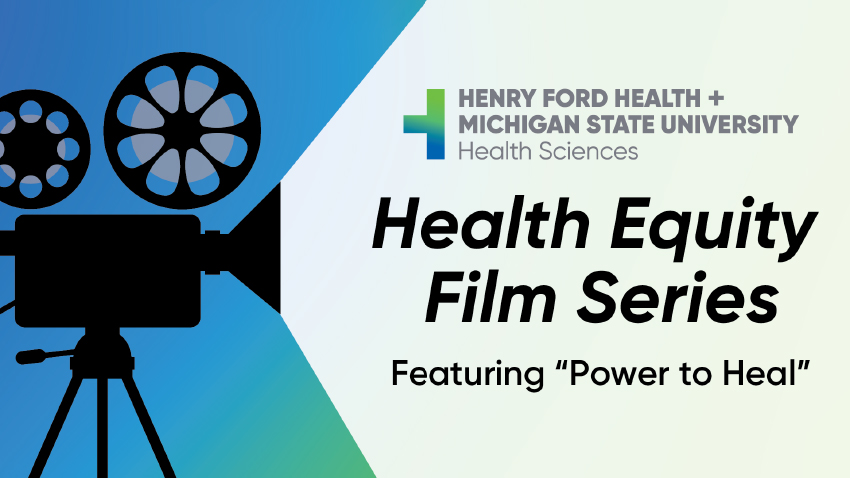 Wed., Oct. 25, 2023, at 5:30 p.m. at MSU and on Zoom | REGISTER
Join Henry Ford Health + Michigan State University for the Henry Ford + MSU Health Equity Film Series featuring Power to Heal.
Power to Heal tells a poignant chapter in the historic struggle to secure equal and adequate access to healthcare for all Americans. Following the full screening of the film, guests are welcome to participate in a community dialogue about the film and what it means for healthcare in Michigan.
This event is free, and due to limited space registration is required. For in-person attendees, a casual dinner will be provided. This event is also offered to participate via Zoom.
Where
MSU Bott Building for Nursing Education & Research,
Room C160 & C170
1355 Bogue St, East Lansing, MI 488240
or virtually via Zoom
Parking
Parking information will be emailed on October 24 to those who registered to attend the event in person.
Sponsored
The Henry Ford + MSU Health Equity Film Series is sponsored by the Henry Ford + MSU DEIJ Committee and Michigan State University College of Nursing.
Questions
For questions on this event, please email henryfordmsu@msu.edu.
This Henry Ford + MSU event does NOT offer credits at this time for viewing the "Power to Heal."
Before Medicare, disparities in access to hospital care were dramatic. Less than half the nation's hospitals served black and white patients equally, and in the South, 1/3 of hospitals would not admit African-Americans even for emergencies. Using the carrot of Medicare dollars, the federal government virtually ended the practice of racially segregating patients, doctors, medical staffs, blood supplies and linens. Power to Heal illustrates how movement leaders and grass-roots volunteers pressed and worked with the federal government to achieve justice and fairness for African-Americans. Through the voices of the men and women who experienced disparities and fought against them, the film will introduce a missing link in the Civil Rights Movement -- a struggle over healthcare from a half-century ago, that raises questions that resonate today: is healthcare a human right? Must the federal government intervene to ensure equality?
About Henry Ford Health + Michigan State University Health Sciences
The product of a landmark, 30-year partnership introduced in January 2021, Henry Ford Health + Michigan State University Health Sciences is focused on setting a new standard for how individuals and communities experience care across the state of Michigan and the nation. The partners are addressing vital pillars of health outcomes: research, education and care. As partners, Henry Ford Health and Michigan State University are creating a unified research community and investing in emerging cancer research and care; working to fight the health disparities that plague our most vulnerable communities in rural and urban settings; and preparing the next generation of physicians and nurses.