David Lanfear, M.D., M.S.
Research Committee Vice Chair
Henry Ford Health Clinical and Translational Research Vice President, and Center for Individualized and Genomic Medicine Research Co-Director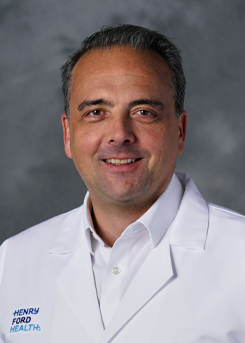 David Lanfear, M.D., M.S., serves as an MSU College of Human Medicine Professor of Medicine, and as Henry Ford Health Vice President for Clinical and Translational Research, and Co-Director of the Center for Individualized and Genomic Medicine Research. Lanfear is a practicing transplant cardiologist, a clinician scientist focused on precision medicine and genomics, and an active clinical trialist with experience in single and multicenter trials.
He has been continuously funded by the National Institutes of Health (NIH) throughout his career and has produced more than 150 published manuscripts. He is nationally recognized in academic medicine and is currently on the AHA Genomics and Precision Medicine nominating committee, AHA Scientific Program committee, ACC Accreditation Oversight Committee, and the HFSA Scientific Program Committee. He is a standing member of NIH grant review panel (CCHS), an Associate Editor at Circulation: Heart Failure, and serves on the editorial boards of JACC: Heart Failure, Journal of Cardiac Failure, Heart Failure Reviews, JACC: Cardio-Oncology, and JACC: Basic to Translational Science.
Lanfear received his medical degree from the University of Michigan Medical School and completed his residency and fellowship at Barnes-Jewish Hospital at Washington University Medical Center in Missouri.